by Jin Takamura, North St Ives Scout Group
It was a great honour to join the SciScouts: Under the Stars camp at Camp Cottermouth, Stromlo ACT from 19th to 23rd April. 50 active Cubs, Scouts, and Venturers from the ACT, NSW, and Victoria joined to engage their curiosity for space-related knowledge and experience, while setting the scene for their SIA awards when they return to their home Units.
The five intensive days started off with an icebreaker craft session creating their own JWST honeycomb-shaped scarf woggle. James Webb Space Telescope (JWST) was launched on 25 December 2021, intended to replace the Hubble Space Telescope. Having a unique shape, the leaders had prepared this icebreaker session to test the Scouts' patience and create new friendships. Later that day, the group went to Mt Stromlo Observatory, were exposed to the largest wombat in Australia, and heard the great accomplishments of astrophysicist and Nobel Prize winner Brian Schmidt. They also created a spectroscope and viewed a valuable presentation by an ANU professor who has been studying spectroscopy of stars.
The camp progressed with a rocketry day where the smaller Project Patrols created their own rockets from scratch and shot them high up in the air. We explored the universe and beyond thanks to SciVR headsets, discussed and shared challenges of creating a Mars colony, were exposed to the coding paradigm by challenging the Turing Tumble, explored NASA in virtual reality with Oculus Quest 2 headsets, had an awesome stargazing evening led by Matt Dodds from Science with Matt and realising how bright the moon actually is, made a Mochi (Japanese gnocchi-like sweets made from rice flour) Universe, visited Canberra's Deep Space Communication Centre (CDSCC) in Tidbinbilla, and more!
The Scouts had also spent a significant amount of time developing their SIA projects in camp Patrols. Some cool projects were presented, such as making a diorama of the Mars surface, creating a constellation arts map, creating a Minecraft world of the outer universe, creating a simulated robot intended for the Mars surface and how to avoid the obstacles around, and much more.
The camp was led by some great Scout Leaders and the team from Science with Matt who led and enjoyed themselves tirelessly with the Unit.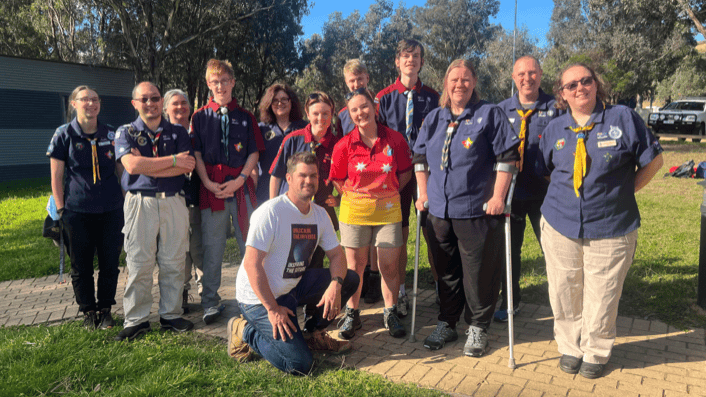 This was a priceless experience for the NSW Contingent of 14 Scouts and 2 Leaders who were gathered from North St Ives, 1st/2nd Harbord, 1st Turramurra, Beacon Hill, and East Wahroonga Scout Groups.