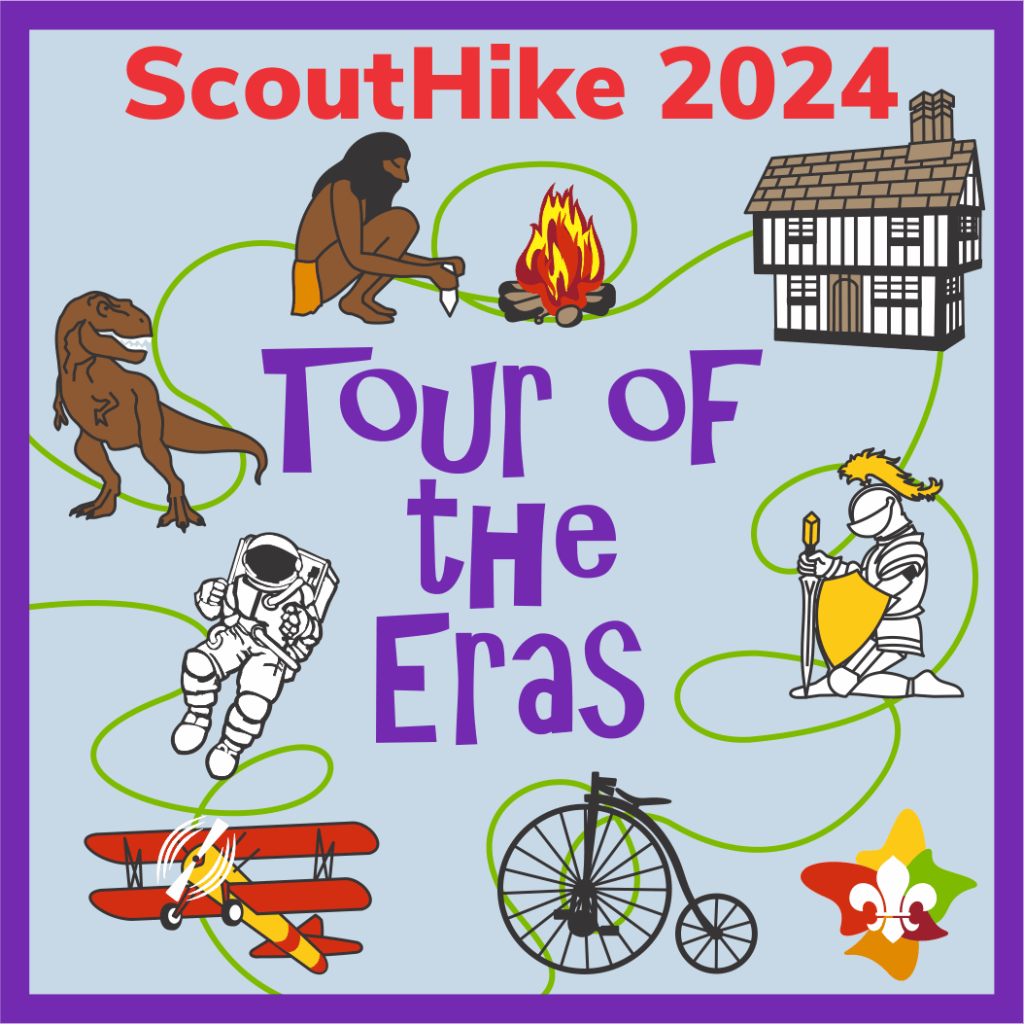 The Region Team is extremely excited to announce that ScoutHike 2024 is happening, to be held from 3rd to 5th May 2024
ScoutHike is celebrating 30 years in 2024 and is Sydney North Region's premier annual Scout section event. If you are interested in an exciting weekend of lightweight hiking around a NSW State Forest – then this is the event you must register for! We are super-excited to run this fantastic event and can't wait to have the forest full of Scouts and leaders eager for a challenging adventure! Dust off those packs and hiking boots and start thinking about your teams. The theme for the event is "Tour of the Eras". Scouts will have the opportunity to spend the weekend completing 29 different activity bases spread across the forest.
Make sure to click attending on the ScoutHike Facebook Event and keep your eye out for updates!
 ScoutHike 2024 "Tour of the Eras"
1st February – registrations open – Early Bird Discount available
4th February – On-site Activity Leaders meeting (Sunday morning)
March/April – Activity Leaders meet with Sleep Point Leaders
1st March – Early Bird Registration Discount & Bonus close today
18th March – Activity Descriptions deadline (for Activity Leaders)
7th April – Last day for Scouts to register and SUBMIT their application
7th April – Last day for Leaders, Venturers, Rovers, and other helpers to register and Submit
8th April – Bus Payment due for Venturers & Leaders requesting transport. There is no charge for Bus Captains
14th April – Last day for Patrol Leaders to make final adjustments to their Patrol
16th April – Last day for all Scouts to pay (or withdraw)
29th April – Bus Captains meeting (Monday evening)
3rd-5th May – ScoutHike
Contact us:
If you have any questions or inquiries about the event please contact Mitchell Rath the event co-ordinator at scouthike.coordinator.snr@nsw.scouts.com.au
If you would like to contact the ScoutHike Admin Team please contact them at scouthike.snr@nsw.scouts.com.au
You can also contact the Sydney North Region office.
Here's how it works
On Friday evening all Scouts as a Patrol, are bused from Sydney and checked into one of six Sleep Points in the forest. They make camp for the night, complete their plans for their hiking for the next two days, catch up with friends, and finally grab some sleep ready for the first day.
After cooking their own breakfast and breaking camp, each Patrol checks out of the Sleep Point and heads off to their first Activity Base for the day, then continue hiking along the way to where they will sleep that night. Points are awarded for arriving at Activity Bases, and more points are awarded depending on how well the Patrol works together and achieves the objectives of each Base.
Patrols can leave their Sleep Point any time from 7.30am on the Saturday, the 29 Bases open at 8.00am, and visit as many Activity Bases as they can visit and fit in during the day. Each activity is designed to take about 20-25 minutes. Patrols need to arrive at the Saturday Sleep Point by 4.30 pm so they can check in and make camp, prepare dinner, and review the day's progress – all before it gets dark. The evening is free to either get some well-earned sleep or make and meet up with more friends.  
Sunday check-out is also from 7.30am and bases open at 8.00am. There are plenty more activities to do as Patrols make their way to the Finish Point to arrive there by the Finish Time. The further away Bases start to close from 11.30am, and all Bases are closed by 12.30pm. After the scores are calculated, the top 12 Patrols are announced and awards presented, the top Patrol also gets their Winner's Trophy all in time for the victorious bus ride home.  
Gold Awards are given to the top 12 patrols, Silver Awards to the next 24 patrols, and Bronze Awards are awarded to every other patrol. All patrols are winners at ScoutHike
Who can Attend ScoutHike?
ScoutHike is open to every registered Scout in the Scout Section in NSW, and within the official NSW Scout Section age range.
ScoutHike is also open to currently registered Guides.
All Scouts and Guides must be in Patrols of 4-8 members 
ScoutHike relies entirely on the assistance of volunteer Leaders, Rovers, Venturers and Adult Helpers, who run the Sleep Points and Activity Bases and everything else needed for the event.
Any currently registered NSW Leader, Rover, Venturer, OP Guide or Adult Helper can register to help.
Scouts
Leaders, Rovers, Venturers & Helpers