On the last weekend in October around 70 Joeys along with their awesome leaders and parent helpers spent the weekend camping at a very spooky Ingleside!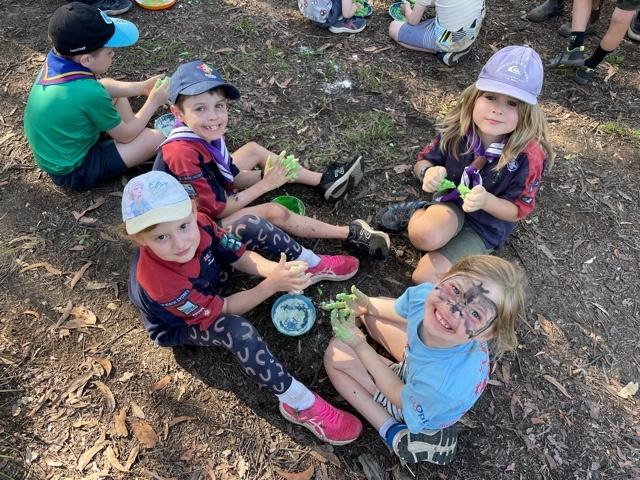 In Patrols the Joeys from Allambie Heights, Balgowlah, Beacon Hill, Belrose, Cromer Dee Why, Harbord, Lindfield, North Sydney, Tambourine Bay, and Willoughby pitched their tents then jumped into camp life. First stop the haunted maze, many squeals and screams could be heard as they encountered ghosts and ghouls, and other creepy creatures.
As they moved around the activity bases they were trained in some all-important throwing 'superpowers' by the mighty Captain Asparagus, constructed their very own lego monsters, turned themselves into some scary creatures with their homemade masks, and braving dipping their hands into the unknown depths of the witches' cauldrons to find the ingredients for their magic potion.
There were some giant ghosts that needed busting and a monster graveyard to be unearthed before we could sleep well that night!
Fizzing bubbling potions were erupting from the Joeys' cauldrons as they did some spooky science transforming the odd Joey into a frog or a mummy and while many left camp with green-tinged hands and a coating of homemade slime, dirt, and face paint, all had big smiles plastered on their faces.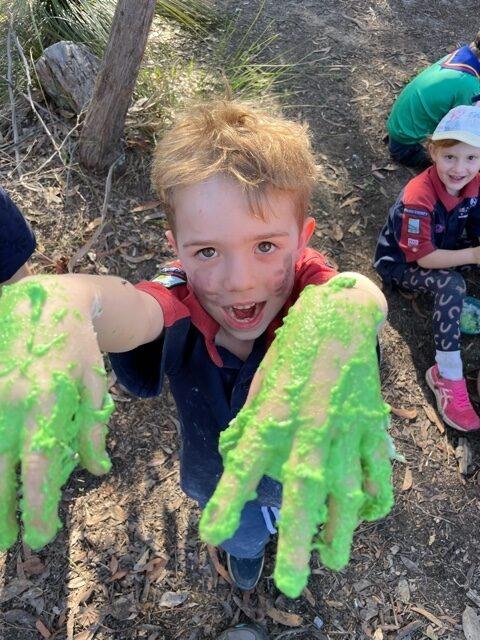 They are an excellent group of little chefs I can personally vouch for the banana liquorice spider, a whole new taste sensation, and the delicious damper creation; crispy green witches' fingers oozing blood!
It was privilege to see the Joeys jump in and give everything a go from braving handfuls of slimy slugs "Are you sure these aren't real?" and leading campfire songs to lighting their first match.
"Ugli" (Jim Baldwin – our fearless leader) was officially named "The funniest Joey leader ever"
The Joeys got to test out their newly acquired superpowers on day two when they discovered it takes throwing a lot of flour bombs at a Rover to turn him into a ghost! Luckily he was a friendly ghost!
For some of our Joeys this was their very first night under canvas as a Joey Scout and they rose to the challenge, did their best, tried new things, looked after their buddies, and made new friends.