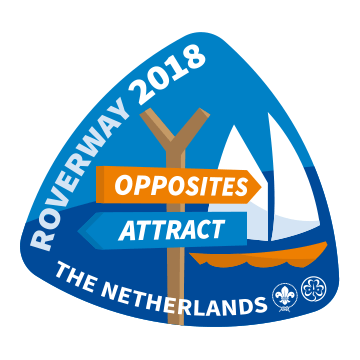 Roverway 2018 brought together around 3,500 Rover-aged Scouts from over 50 countries across Europe and beyond, for a 10-day camp in Holland. Two Normanhurst Rovers joined 15 others in the Australian Contingent.
'Our Roverway'… in a word, amazing! Our experience during the camp was as they say, 'typical Dutch'—. We watched sunsets on the beach, ate a lifetime's worth of stroopwaffles, camped on a small dairy farm, canoed through suburban canals, and even tried our hands at helping the locals with agricultural work. Despite all the amazing activities at the camp, we both agree that for us, Roverway will be remembered for the cultures we were immersed in, the food we ate, and above all, the friends we made.
Even though our 'rare' status as Australians attending a primarily European camp boosted our initial popularity (especially due to the clip-on koalas), we found it easy to make friends with people from every culture on our 'Path'—… Lebanese, Italian, British, Belgian, Spanish, Portuguese, Dutch and of course, South Australian!
On our Path, long days of canoeing and hiking were finished off with a traditional cultural meal, prepared by a different country each night. Our favourite night had to be the outdoor cooking class run by the Italian patrol, where we learned to make our own pasta by hand. The Aussie patrol covered dessert that night, making lamingtons and pavlovas (both of which were a smash hit). At the main camp of Zeewolde, socialising and badge-swapping (or in our case, badge-harassing, because everyone wanted to get their hands on a rare Aussie badge) became daily activities, as we were left with loads of free time to hang out with our new friends and make even more, whilst participating in activities like sailing, cycling, and eco-living workshops.
We've both had an incredible experience at Roverway, having found new friends throughout Australian Rovering and also living all over the world. We can't wait to attend more international Scouting events, and of course, encourage everyone to have a Scouting experience like The Roverway.
Vanessa & Daniel, Normanhurst Rover Crew